Who IS that masked man?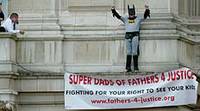 A British fathers rights campaigner dressed as Batman has climbed a rollercoaster in Blackpool. Police are trying to entice him back down from the 70m-high ride.
Last month another campaigner also dressed as Batman climbed the wall of Buckingham Palace. He came down when police threatened to shoot him.
Click
HERE
to link to fathers4justice